| The Gemini Difference | Capabilities | Features |
| --- | --- | --- |
| 2-10 Day Lead Times | Bulk Pump-out | All Paperwork Handled |
| Competitive Pricing | Container & All Disposal | Free On-site Consultations |
| Customer Service Focus | Full Truck & LTL | Federal/State/Local Certified |
| Low Minimums | Gap Vacuum Truck | Waste Testing |
| Prompt Service | Roll-off Boxes | |
| | Pickup in DE/MD/NJ/NY/PA | |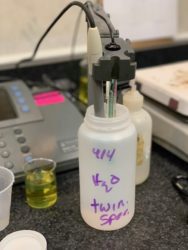 Gemini Disposal Services provides industrial waste disposal services to companies that generate anywhere from a few hundred to several thousand gallons of waste. Service is our highest priority and we ensure that your waste will be taken away in a timely manner and treated in full compliance with all federal and state laws and regulations. Our service allows small generators to properly dispose of waste without the high costs of renting an entire truck for small quantities. We offer LTL waste pickups in addition to full truck loads to meet your disposal needs.
Gemini is able to dispose of a variety of waste streams such as:
| Liquid Waste | Hazardous Material | Universal & Solid Waste |
| --- | --- | --- |
| Anti-Freeze | Acids | Batteries |
| Cleaners | Corrosives | Bulbs |
| Used Coolants | Lab Packs | Contaminated Soil |
| Waste Oils | Paints | Electronics & E-Waste |
| Wastewater | PCB Waste | Used Absorbents |
| | Solvents | |
We offer free on-site consultations to determine the best plan to collect and treat your waste. For new waste streams, we test your waste to determine the best practices for treatment and disposal. For solid waste, we are able to use a vacuum pump to remove the solid from your facility and help clean your facility.
With over 30 years of experience, Gemini Disposal Services has extensive knowledge of treatment practices and disposal regulations. Therefore, we provide completed paperwork on your behalf and all you need to do is sign the manifest upon pickup. Our service removes the headaches associated with disposal and simplifies the process. If you are a generator in the mid-Atlantic region (PA/NJ/NY/DE/MD) contact Gemini Disposal Services for a free consultation and/or waste pickup.